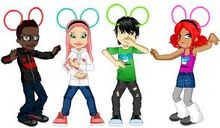 Deadmau, or more formally known as Deadmau5, was a special promotion for Woozworld in January 2012. Deadmau5 is often known as the rarest item on Woozworld, as being a "one-time" promotion. The special hairs and tops were modeled after Deadmau5, with concert of the artist on Woozworld. Woozens got to pick a hairstyle or top with a the signature Deadmau5 ears or logo. The tops were either a basic shirt, a tank top, or a hoodie. None of the Deadmau5 items were transferable and they have never been resold since 2012. So far, there are no ways to get it. So be a big kind and do it yourself.
Appearance
Edit
Deadmau5 is named after a mouse, so there are many hairstyles with iconic Deadmau5 ears. Most of these hairstyles were original Woozworld-designed hairstyles with the ears on them. The hairstyles were divided into categories; Neon, Exclusive and Shiny.
Shiny - The shiny Deadmau5 ears had ears with a smooth pattern, which were attached directly to the hair.
Neon - The neon Deadmau5 ears (as seen on picture on top right corner) were thin ears attached to a headband, with a glow.
Exclusive - Like Deadmau5 himself, the exclusive Deadmau5 hairstyle was not in fact a hairstyle, but more like a big mouse head in the style of the artist.